As every year, Le Web is part of the agenda for the Internet industry. It is now an established institution, and we must credit Loïc & Géraldine Le Meur for such an international event to take place in Paris. It is definitively a great opportunity for our tech industries in Europe.
I've been admirative of Le Web for a long time but last year especially, some details striked me and enlightened how great Le Web business model is. Let me explain by analyzing the social structure of Le Web community. By community, I mean the broadest population of Le Web enthousiasts, which I divide in VIPs (invited), Workers (paying attendees) and Enthousiasts (benefiting the online free content).
Very Important People
Let's start with VIPs. Last year, over 2700 attendees, approximatively 250 where VIPs, which included speakers (about 100 people) and sponsors (about 40 companies). Most of them where invited, even though in some ways, speakers & invitations from sponsor companies have paid their status 🙂
Clearly, an amazing job on VIP treatment has been done by Le Web team. Managing to have top speakers coming to Paris was key to develop the conference as they attract paying attendees. France may be a cool place to visit, but still had not the reputation a top tech/start-up place, and not known to be friendly to entrepreneur thanks to our labour laws (having invented the word entrepreneur is not enough !).
So, Le Web had to manage VIP perfectly for the conference to work. Aux petits oignons as we say in french 🙂 Last year edition was probably the best example. The dedicated networking lounge constituted a conference in itself with 250 people. It was regularly cited on Twitter by some VIPs as a great networking experience. The most impressive was the VIP reception at the Monet exposition. For your information, the exposition was such a success lots of parisian could not access it. Le Web VIPs could. Brilliant.
In few words : free access, special treatment, provide content for Workers and Enthousiasts.
Workers
By calling paying attendees Workers, I don't mean to be ironic. But with a regular ticket at 2300 euros, clearly they must justify (to their boss or to themself) the ticket price, travel & accomodation if any and the time spent (3 days this year) with a clear return on investment. So, they're not here just for fun (and there is fun), but also to work. I don't know the exact ARPPU, but it is probably around 1500 euros I guess, if not more.
Last year they represented about 90% of attendees, all working in the digital, internet, media, start-up industry. Even though they do not give keynotes or partipate to panels, as Workers they produce most of the content Le Web provides: networking opportunities. By their very presence, they provide to other attendees the networking content any Worker paid for.
This is pure User Generated Content. And as usual with UGC, the only way to monetize it is to ask people to pay (ticket price) for the content they create (presence and networking opportunity). Widely experienced in online games, nothing wrong with that, as paradoxal it seems !
What Workers also benefit ? Definitively not the VIP keynotes & panels as it is freely accessible online anyway. The VIP presence ? There are interactions between Workers and VIPs obviously, but I'm not sure it's true for most of Workers, only for a few great networker (this is a personal impression, I may be wrong). Having a dedicated networking room for VIPs does not help either.
In few words : paying, benefit content they provide themselves, benefit from VIP content to some extent.
Enthousiasts
We tend to forget this part of the community, but Enthousiasts are very important. By giving a free access to keynote and panels to people who can't afford to attend the events, Le Web has created an important community of enthousiasts which speak of the events and build his reputation also.
Though it is important, I'm not talking here of communication, social media, bla bla bla. I'm just saying Enthousiasts are part of the business model because they are one of the reasons why some Workers paid. To be able to say : « I was there, I attended Le Web ». Yeah I know, no one will admit that, fair enough. But being recognized inside a community with a special status is a very common behaviour, here again widely experienced in online game communities. Nothing new here 🙂
How many Enthousiasts ? Difficult to evaluate. LeWeb Twitter account has 62k followers while their Facebook fan page has 10k likes, and obviously it is just the visible part of the iceberg, those who are most enthousiastic. This french blog also mentions 180k viewer of the live stream ! But let's say there's about 25k Enthousiasts, ten times the attendees (probably way more in reality, but enough for the purpose of this article !).
In few words : no access, free content, provide some content to Workers
Conclusion
To avoid any confusion, this analysis does not aim to criticize Le Web, which I admire as a business, nor to give an opinion on VIPs, Workers or Enthousiasts, each one finding in Le Web a specific motivation. What strikes me is the social structure of LeWeb community, which can be summarized as a pyramid like this (not at scale but you get it):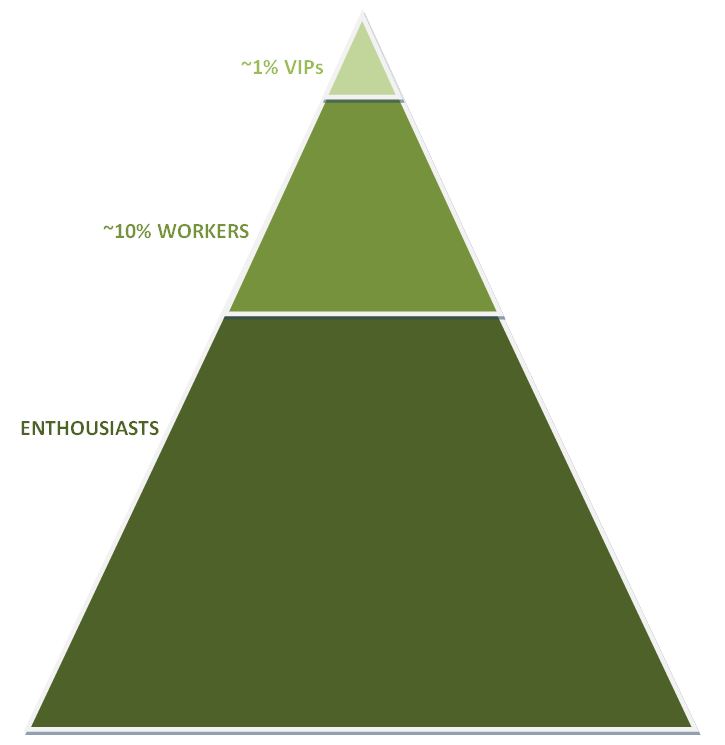 Without entering into details, anyone who has worked in the online gaming industry with a free to play model and a UGC monetization, will probably agree the social structure of Le Web community is very similar. One main characteristic: the ones in the middle pay for the others, while also enjoying what they've paid for !
I may not have the exact figures of the distribution among the 3 populations, but I don't think I'm that far in terms of general model. This is a great example of cross-industry business model 🙂